Reimbursement Pathway


for Fluorescence Imaging
and Detection of Bacteria
The MolecuLight i:X® is the only point-of-care device that allows fluorescence wound imaging for bacterial presence, location, and load1,2. The reimbursement pathway for this procedure includes:
Physician work through two CPT® codes (Current Procedural Terminology – category III) issued by the American Medical Association (AMA)
Facility payment for Hospital Outpatient Department (HOPD) and Ambulatory Surgical Center (ASC) settings through an APC (Ambulatory Payment Classification) and ASC code, respectively, issued by the Centers for Medicare and Medicaid Services (CMS)
These codes were issued by the AMA and CMS after critical review of the large body of supporting clinical evidence. Each recognized the medical necessity of this procedure.
These codes are active as of July 1, 2020.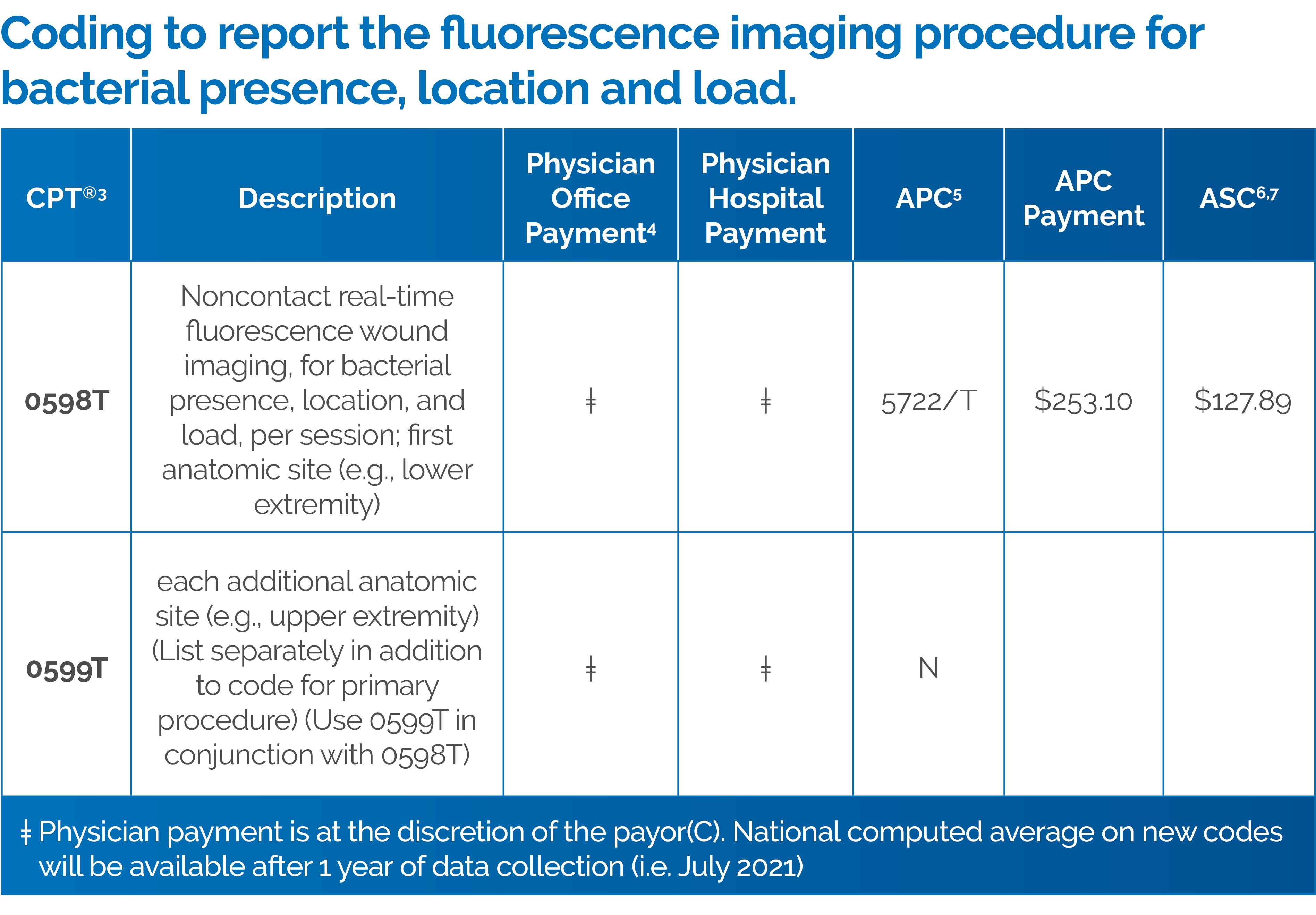 Recent Articles
"New Category III CPT Codes Now Active for MolecuLight i:X Fluorescence Imaging of Bacteria"
Today's Wound Clinic,
Feb 2020
Leah Amir

"Share New Codes with Your Clinical and Revenue Cycle Teams"
Today's Wound Clinic,
Feb. 3, 2020
Kathleen D. Schaum, MS

"Can Fluorescence Imaging Predict the Success of CTPs for
Wound Closure and Save Costs?"
Today's Wound Clinic, Dec. 2019
Barbara Aung, DPM, CWS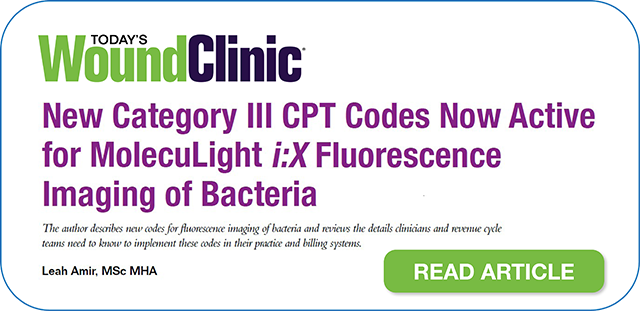 ---
DISCLAIMER: Coding, coverage, payment, and billing information provided by MolecuLight Corp. is based on third party sources and is subject to change. MolecuLight Corp. cannot guarantee that the use of any particular codes will result in coverage or payment at any specific level. The information provided in this document does not constitute reimbursement or legal advice, and is not a substitute for detailed guidance from the patient's third party payer. Providers are responsible for determining correct coding and for submitting accurate claims.
CPT® is a registered trademark of the American Medical Association.
References
1Release of 2 New Category III Codes for Real-time Fluorescence Wound Imaging to the AMA website (Dec. 30, 2019) www.ama-assn.org/system/files/2019-12/cpt-category3-codes-long-descriptros.pdf
2CMS DHHS Pub 100-04 Medicare Claims Processing Transmittal 10166. July 2020 Update of the Hospital Outpatient Prospective Payment System. June, 2020
3AMA 2020 CPT Manual all rights reserved.
4CMS Physician relative value scale January 1, 2020.
5CMS OPPS Addendum B January 1, 2020.
6CMS Ambulatory Surgical Center (ASC) Addendum AA Final Rule corrected Covered Surgical Procedures for CY 2020.
7CMS ASC Addendum BB July 1, 2020 update.