Findings from a New Clinical Study Using MolecuLight Imaging of Diabetic Foot Ulcers Prompts New Diagnostic Terminology Enabling Proactive Infection Management
TORONTO, ON – (February 14, 2023) MolecuLight Inc., the leader in point-of-care fluorescence imaging that locates and detects elevated bacterial loads in and around wounds, announced the publication of "Point-of-care fluorescence imaging reveals extent of bacterial load in diabetic foot ulcers"1 in International Wound Journal. The publication reports on the analysis of 138 diabetic foot ulcer wounds, highlighting the frequent presence of healing delays and elevated bacterial burden as identified through standard clinical assessment, fluorescence imaging (MolecuLight i:X®), and quantitative microbiology.
The emergence of data on the link between bacterial load and healing over the last decade, together with this current study, prompted study authors David G. Armstrong, Michael E. Edmonds, and Thomas E. Serena to define new clinical terminology, chronic inhibitory bacterial load (CIBL). CIBL is defined as "the chronic presence of bacterial microorganisms in a wound or its surrounding tissue at loads which can damage tissues and be inhibitory to healing, as well as require clinical intervention, with or without the presence of clinical symptoms".
MolecuLight fluorescence imaging is currently the only way to detect and locate CIBL at the point of care. This term enables the proactive diagnosis of CIBL early along the bacterial-infection continuum, to facilitate its targeted removal, promote healing, and prevent the sequelae of infection in frequently asymptomatic diabetic ulcers.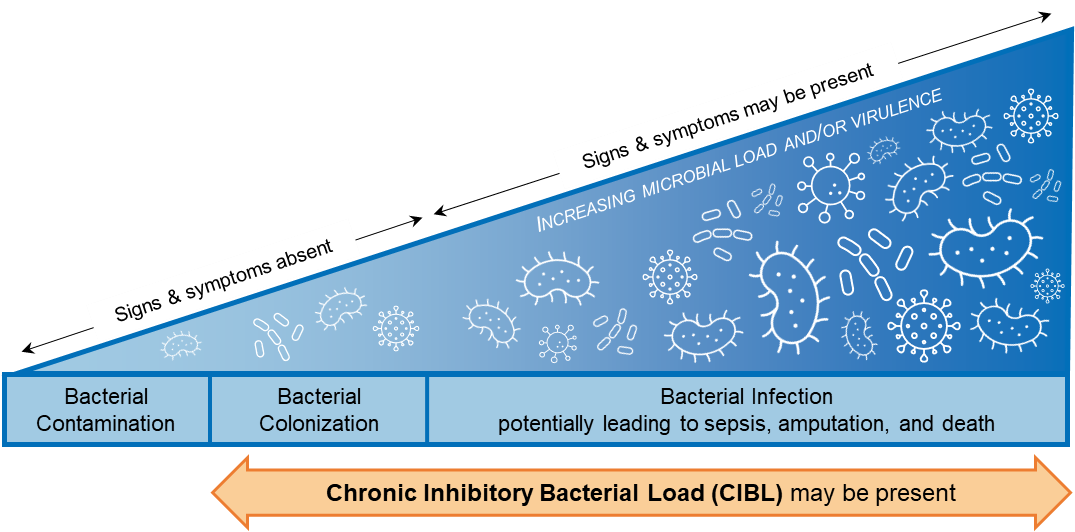 Image:  Chronic inhibitory bacterial load on the bacterial-infection continuum.
Based on the International Wound Infection Institute (IWII) 2022 wound infection continuum2
Key findings of the study include:
Less than 12% of diabetic ulcers exhibited clinical symptoms of bacteria and infection, despite the presence of loads >104 CFU/g in over 90% (average bacterial load of 108 CFU/g). Even as bacterial loads increased up to >108 CFU/g, detection of clinical signs and symptoms of infection did not increase.
Bacterial loads >104 CFU/g can preclude wounds from healing through various biological mechanisms and are contraindicated for many advanced therapies. This study showed that the occurrence of delayed healing increased alongside bacterial load.
Fluorescence imaging using MolecuLight increased sensitivity for the detection of CIBL across loads 104–109 (p < .0001), peaking at 92.6% for bacterial loads >108 CFU/g. This was 8.3 times superior to standard clinical assessment alone. 
Fluorescence imaging further showed that 84.2% of ulcers contained high loads in the periwound region, an area that is frequently overlooked.
Infection prevention is a key goal of CIBL's introduction, adoption, and management. CIBL is the result of these seasoned wound care clinicians' long-time advocacy for proactive wound management as they see firsthand the devastating consequences of delayed treatment. "Infection is the greatest destroyer of the diabetic foot. It is the final common pathway for most amputations, and we need to fight it as early as possible in its natural history", says Dr. Michael E. Edmonds, one of the paper's authors and Consultant of Diabetologist at the Diabetic Foot Clinic, King's College Hospital Foundation Trust in London, UK. "CIBL localization and proactive management is a crucial strategy in reducing unnecessary amputations and saving lives", he concludes.
As MolecuLight is the only device capable of detecting elevated bacterial loads in wounds in real-time,  regions of CIBL can be non-invasively and accurately detected and mapped. The device provides clinicians with immediate feedback to guide their therapeutic decision-making process in a number of clinical settings from the outpatient clinic to the operating room. Multiple routine procedures are enhanced by its proven capabilities, such as debridement, wound hygiene, and preparation for advanced therapies resulting not only in better outcomes,3,4 but more rational resource consumption and antimicrobial stewardship.4
"There is also a meaningful role for fluorescence imaging with MolecuLight in antimicrobial stewardship. This is critical considering that approximately 70% of patients with diabetic foot ulcers are prescribed antibiotics at some point during their care, and over 80% are prescribed antimicrobial dressings3, often in a haphazard manner", says Dr. Thomas Serena, study author and the Founder and Medical Director of The SerenaGroup®. "Diagnostic uncertainty has been listed as a key factor in antibiotic overuse in wound care. Fluorescence signals as a real-time imaging biomarker of CIBL could enable clinicians to more effectively leverage hygiene-based strategies to remove bacteria rather than resorting to antibiotics".
"The definition of an infection's genesis and its resolution is a clinical one", notes Dr. David G. Armstrong, study author, Professor of Surgery at the University of Southern California, and founder and co-Director of the Southwestern Academic Limb Salvage Alliance (SALSA). "The problem is that many objective local signs may be blunted in the chronic wound and it is likely that we are not yet effectively measuring what we manage. Fluorescence imaging of chronic inhibitory bacterial load (CIBL) is positioned to potentially change contemporary paradigms of wound management. We are hopeful that this new clinical term, CIBL, can be a key indicator to enable pre-infection intervention such as debridement or modification of wound therapy."
The MolecuLight i:X and DX are the only imaging devices for the real-time detection of elevated bacterial burden in wounds that are FDA cleared and CE and Health Canada approved. With clinical evidence including over 65 peer-reviewed publications involving 1,500 patients, they are used by leading wound care facilities globally.
References
1 Armstrong DG, Edmonds ME, Serena TE. Point-of-care fluorescence imaging reveals extent of bacterial load in diabetic foot ulcers. Int Wound J. 2023;20(2):554-566
2 Wounds International (2022) International Consensus Update 2022 International Wound Infection Institute (IWII) Wound Infection in Clinical Practice: Principles of best practice. Available from https://woundinfection-institute.com/
3 Price N. Routine fluorescence imaging to detect wound bacteria reduces antibiotic use and antimicrobial dressing expenditure while improving healing rates: retrospective analysis of 229 foot ulcers. Diagnostics (Basel). 2020;10(11):927.
4 Rahma S, Woods J, Nixon JE, Brown S, Russell DA. The use of point-of-care bacterial autofluorescence imaging in the Management of Diabetic Foot Ulcers: a pilot randomised controlled trial. Diabetes Care. 2022;45:1601-1609.
About MolecuLight Inc.
MolecuLight Inc., is a privately-owned medical imaging company that has developed and is commercializing its proprietary fluorescent imaging platform technology in multiple clinical markets. MolecuLight 's suite of commercial devices, which include the MolecuLight i:X® and DX™ fluorescence imaging systems and their accessories, are point-of-care handheld imaging devices for the real-time detection and localization of bacterial load in wounds and digital wound measurement. MolecuLight procedures performed in the United States benefit from an available reimbursement pathway which includes two CPT® codes for physician work to perform "fluorescence imaging for bacterial presence, location, and load" and facility payment for Hospital Outpatient Department (HOPD) and Ambulatory Surgical Center (ASC) settings through an Ambulatory Payment Classification (APC) assignment. The company is also commercializing its unique fluorescence imaging platform technology for other global markets with relevant unmet needs in food safety, consumer cosmetics and other key industrial markets.
For more information, contact: